Getting out of the office to see for myself the work you are doing is one of the highlights of my role. Last Friday I had the pleasure to meet staff from the Welsh Government and attend the Driver and Vehicle Licensing Agency's (DVLA) 'Driving Development for Digital Delivery' conference.
Project Management
At the Welsh Government, I heard from the 'Communities First' delivery team, who won the 2013 Civil Service Award for Programme and Project Management.
Communities First works with disadvantaged people in deprived areas to reduce poverty and improve health and skills. The team has a steering group made up of local residents, businesses and voluntary organisations and agencies such as the Fire Service and Police. Their success was based on effective collaboration across organisations' and excellent project management skills.
Improving these skills is an important aim of the Civil Service Reform plan and to this end I would encourage you to sign up for the one of the Civil Service Live learning events that are taking place around the country in June and July. I am sure you will be inspired by the exemplary work taking place across the civil service.
Equality and Diversity
During this period of reform, it is my view that a smaller civil service should not mean a less diverse civil service and it should still offer equality of opportunity.
I met with representatives from the 'Mind Matters' support group for mental health whilst I was in Wales. Staff run the group in their spare time and it provides a supportive network for those affected by mental health issues. I am pleased to say that they were rewarded with a Civil Service Diversity and Equality award in 2012 for their innovative work.
There were more inspiring stories to be heard at the DVLA.
I presented the DVLA's Customer Research team with an award for their important usability testing work. Team 40 of the DVLA Contact centre received an award for raising the profile of equality and diversity in the call centre. I was also honoured to give Beth Hall an individual award for her work with young people from the local community on job placements.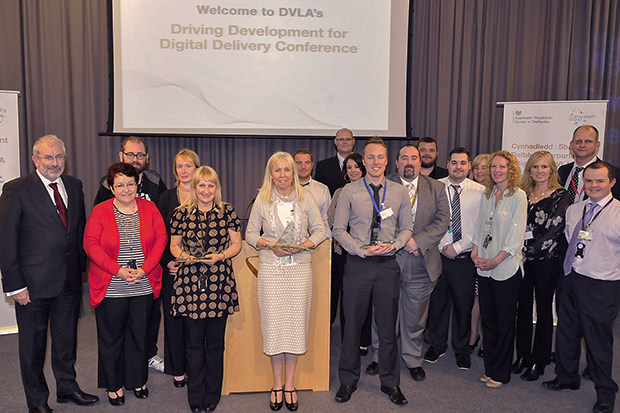 Digital
I also heard how the DVLA's digital transformation programme is moving the agency from paper based systems to modern, online digital services such as the online driving record service. The DVLA are doing this in collaboration with small and medium enterprise developers and with the Government Digital Service. This is a great example of how the civil service is becoming more open and unified to deliver better services for the public.
What I took away
My visit reinforced how important it is to build networks across the departments and regions we work in.  Civil Service Local is a cross-government team that encourages collaboration across departments and  beyond Whitehall. This is essential as more than 80% of civil servants are based outside London. Civil Service Local have recently launched a new blog which I would encourage you all to read.
I left Wales feeling extremely positive. While we still have much to do on reform, I was inspired by the diversity award winners and saw some great examples of how the civil service is becoming more capable, unified, open and digital.
Stay in touch. Sign up now for email updates from this blog.
Related content:
Blog post Celebrating diversity in the Civil Service
Blog post Opportunities for all – a diverse Civil Service
Blog post Achieving diversity- 2013 Rainbow Lecture, House of Commons