Today Reservists from all over the country are celebrating Uniform to Work Day in the run up to Armed Forces Day on Saturday 28 June. It is a fantastic way to thank our Reservists for the great work they do. I'd particularly like to thank those of you who champion the Reserve Forces in Departments - you really do a brilliant job.
Events
Many Reservists will be celebrating Uniform to Work Day by attending a lunch in Admiralty House. I'd like to thank Lieutenant Col Rolf Kurth from Army Employer Engagement for organising today's lunch.
Unfortunately I am unable to attend as I am speaking today in Liverpool for Civil Service Live. However, I was fortunate enough to meet with some Reservists at the Civil Service Live event last week in Bristol and hope to meet with some Reservists here in Liverpool today to hear more about what they do.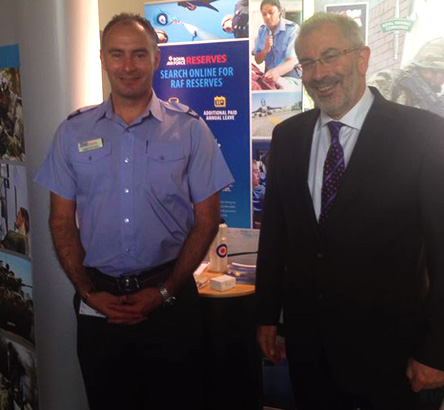 Show your support
I know that reservists are being asked to take work selfies and email them to armedforcesdayuk@gmail.com. I hope to look through some of these later today and also see some on twitter.
Everyone can also get involved by leaving a message of support on the Armed Forces Day message board.
Thinking of becoming a Reservist?
Reservists are extremely important in acting as the bridge between the military and the rest of society, enabling the transfer of knowledge, skills and experience. For employers like the civil service and for individuals, this means a chance to benefit from world class training and develop transferable skills in areas like leadership, team work, crisis management, planning and resilience.
It is because of these benefits that we now offer a minimum of 10 days paid special leave each year for reserve training. And we will consider requests for other forms of leave to support your reserve activities.
I encourage anyone who is thinking of joining the Reserves to speak to their Departmental Reserve champion. You can find more information on joining the Reserves from the Ministry of Defence pages.