You may have heard in the news last week, that the Children and Families Bill extended the right to request flexible working to all employees. I am extremely proud that the majority of departments in the Civil Service already do this and I hope that this change in legislation will further support my aim to develop a more flexible, modern workplace that embraces smarter working in a variety of ways.
It is worth noting that flexible working covers a wide range of practices and working patterns; for example part-time working, working remotely and job-sharing. Personally I have found that employees working flexibly are very committed and productive. It is important that managers and team members are clear about how, when and where work can be done in the most effective and efficient way which meets business needs.
The Civil Service Reform Plan promotes flexible working and flexible working patterns and I am pleased to say that they are becoming increasingly common – for example, the proportion of people working part-time across the Civil Service has increased from around 10% in 1999 to 24% in 2013.
Flexible working can benefit the employee and the employer. For the employee, it allows them to achieve the work/life balance they want, and for the employer it can lower business costs and improve retention. I had an opportunity to reflect on this when I attended first cross Civil Service event for job sharers last month which was held at DCLG.
Cross Civil Service job-sharing event at DCLG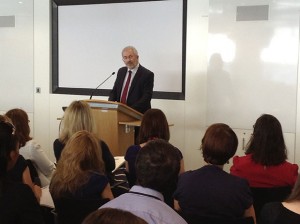 Job-sharing is something that I am extremely passionate about. I have witnessed first-hand how well it can work within my own department at DCLG. In addition to the other benefits of flexible working, managers in particular can profit from job-shares as it allows them to get two different perspectives and two sets of skills in one role.
We are therefore taking practical steps to make it easier for those interested in job sharing to find a job-share partner and Civil Service Resourcing will be launching a new fully automated job share notice board by the end of the year to enable people to do this.
I heard from the audience at the event that there is work to do to ensure that our employment practices don't hinder opportunities for job-shares and that too often jobs are still being advertised as not suitable for job sharing without a good enough case being made to justify this. It is my belief that most jobs can be done well as job-shares – with two dedicated people working closely together to deliver one set of objectives.
More information on job sharing
There are already a number of job share partnerships across the Civil Service doing challenging and interesting roles and you can find out more about some of them by going to the job-sharing blog. I would like to hear from other people who are job sharing about how this works for you, or from line managers of job sharers about their experiences. I'd also like to hear from people who would like to job share but aren't about any barriers that have made it difficult for you to do this.
I am committed to promoting equality of opportunity and see job sharing as one important way of making this a reality. I look forward to hearing your views.