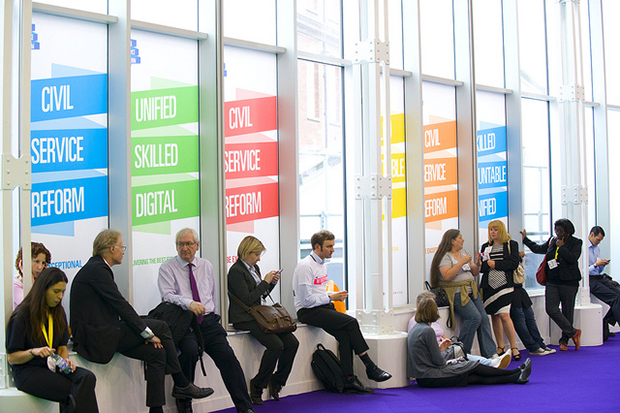 Thank you again for all your comments in advance of the meeting last week with Directors General and Permanent Secretaries.  We try to get together twice a year in this way and your contributions helped to add a layer of context and colour to the discussions we had this time.  I quoted some of you in my speech to the whole group, and I know that those leading sessions on capabilities, talent and other aspects of reform used your views to inform the discussion.
Identifying talent
With regards to talent, there was a clear commitment from the group to invest their personal time and effort into identifying and developing the most talented civil servants – they will each be identifying two or three people who could do their job one day, and working with them to develop their potential.  This is something all of us with a line management or leadership role should be doing, it's not just for those who are on formal talent schemes, and if we do it, we can have a tangible impact on the organisation.  And don't forget, having identified these talents, we should not shy away from celebrating them.
Taking learning and development seriously
Meanwhile, on capabilities, I set out clearly my intention that all civil servants should receive 5 days learning and development a year.  The 5 days should be made up of informal learning, such as shadowing, coaching conversations and on the job learning, as well as formal learning from  Civil Service Learning.  If we're to improve our skills and deliver a better service to the public and Ministers then it is vital that we take learning and development seriously.
I have been very concerned by the number of people saying on the blog that they're not being given the opportunity to receive their 5 days a year.  I know Chris Last, Head of Civil Service HR shares my concerns and he is keen to hear from you if you're not being given the time and opportunity to develop.  Please contact him and his team at cshr@cabinet-office.gsi.gov.uk to share your experiences so he can follow up on your behalf.  There was a clear commitment from all in the room on Friday that 5 days should be a reality, not an aspiration.
The right environment and tools
Finally, with regards to smarter working, you have told me that all too often you're delivering services using outdated IT, poorly designed offices and inflexible working practices.  It's clear to me that if you're to realise your full potential then you need to work in the right environment and have access to the right tools. For example, colleagues in the Highways Agency across the country are benefitting from smarter working and improved IT which is supporting them in their work.  The "Fit for the Future" programme is just the sort of thing I want to see in other departments, and I know colleagues across all departments are working hard on taking forward their own smarter working programmes.
We know we have more work to do, and the best way to address this is to be clear what and where the issues are which you're facing.  The team leading this work are really keen to hear from you at Tw3information@cabinet-office.gsi.gov.uk.  They will be guest blogging for me in a few weeks' time on how they're taking your feedback forward so please get in touch.
In the coming weeks you should hear from your Director General about the work they will be doing in your department to deliver at least one aspect of Civil Service Reform.  I urge you to work with them to deliver a lasting and positive change for us all.
Stay in touch. Sign up now for email updates from this blog.
Related content:
Blog post You're hired- a successful week for the civil service
Blog post Technology at least as good as people have at home
Blog post Civil Service Reform- the year ahead