Over the last 18 months I have been working very closely with the Government Property Unit to develop the Space for Growth (SfG) project.
It is a great example of where the Government is helping business and continuing to reduce the size and cost of the public estate.
What is Space for Growth?
The aim of SfG is to help small businesses, social enterprises and charities move out of their spare rooms and into their first office. The project takes Government buildings that are not being used and opens them up to help small businesses. Government have these spaces because they are coming to the end of their leases, are being sold or because there is extra capacity in some of our properties.
The Challenge
Whereas using government property to generate income has been commonplace for decades, offering it free nationally was a very new concept and as such needed to be 'sold'. Government departments were suspicious of having companies in their buildings and potential partners needed proof of concept before teaming up to deliver the programme. A new web portal had to be developed that enabled bookings to be placed; an online security clearance procedure was developed as were standard legal documents. The team worked closely with departments to identify suitable properties and help resolve challenges by concerned landlords and to keep the new partner organisations engaged. This has all now paid off with more companies wanting to become involved and coming forward to work with the team, having seen that the concept works.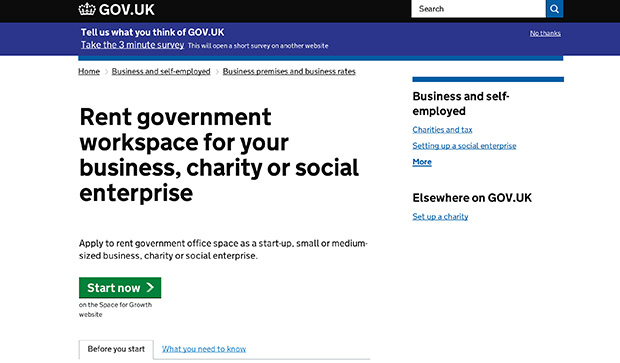 Who benefits?
SfG has given many SMEs a leg up from Halifax to Birmingham, Cambridgeshire, Norfolk, Bristol and outer London. Examples of those who have benefited from SfG include:
• Sue Jepson from Eat Smart Foods who set up her business in manufacturing gluten lactose free sauces, she is now looking to expand and take on new employees thanks to the time that she has had to develop her business without the concerns of meeting a monthly rent;
• Alkhami and Ellery Consulting companies who both saved enough money from using one of our offices that they were able to take on employees to grow their businesses;
• Style Squid who are in their pre-start-up phase and have been able to work together to get ready for launch without having to worry about where they could meet or the cost of commercial offices;
• Fifth Province Productions who used space at Wimbledon for rehearsals and said "Put simply, we couldn't have afforded to rent the suitable rehearsal space necessary to achieve that".
SfG has been running a number of "Start Up Scale Up" events across the country, where entrepreneurs have been able to come along and meet a wide variety of the organisations that are available to help them. The most recent event was held at Bridge House in Guildford where 2 business incubation providers, Unities and iThinkLots will shortly be opening managed offices.
And finally
I would like to thank the Cabinet Office's Government Property Unit, BIS and the departments that took the risk and volunteered to be part of the scheme for all working so hard to make SfG a success. I am excited to see the difference that we are making for those start-ups we help and to hear their stories.