One of the things I enjoy most about going along to Civil Service Live is getting to try out some of the exciting tools developed for civil servants. While at Civil Service Live in Bristol, I heard about the fantastic qualifications that are now available to those of you in the Operational Delivery Profession (ODP) and had a go on the fabulous new "career mapper".
As you know, my aspiration is for us to become an exceptional Civil Service. Learning and development is at the heart of this. We have gone a long way to improving our skills across the Civil Service. The next step is to deliver these professional qualifications which are recognised both in and out of the Civil Service, so you can improve your skills and be recognised for doing so.
Operational Delivery Profession qualifications
These internationally-recognised qualifications, which range from GCSE to postgraduate level, will help you to deliver an even better service to customers and help us to deliver the Reform Plan. We're investing heavily in these qualifications and they offer a tremendous opportunity to improve your skills. I encourage you to find out more about them.
Putting the Operational Delivery Profession on the map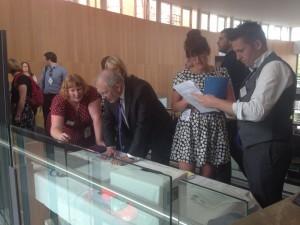 The career mapper is great at helping you to understand the sorts of things you're expected to do in your current job at your level, which is really useful when you're writing your performance objectives. You can use it to find other types of jobs that share the same skills as the ones you've got so you can think about moving on or up in the profession and progress your career right across the Civil Service. You can also get hints and tips from others who have already done just that.
Another plus with the mapper is that when you're drawing-up your learning plans for your five a year it lets you quickly and easily find all of the learning and qualifications recommended for the work you do, including a great range of new internationally-recognised qualifications
More information
If you're going along to Civil Service Live I highly recommend that you visit the Operational Delivery Profession stand to find out about studying for an accredited qualification or to check out the career mapper. If you can't make it to the London event, just log in to the Civil Service Learning gateway to find out more information.